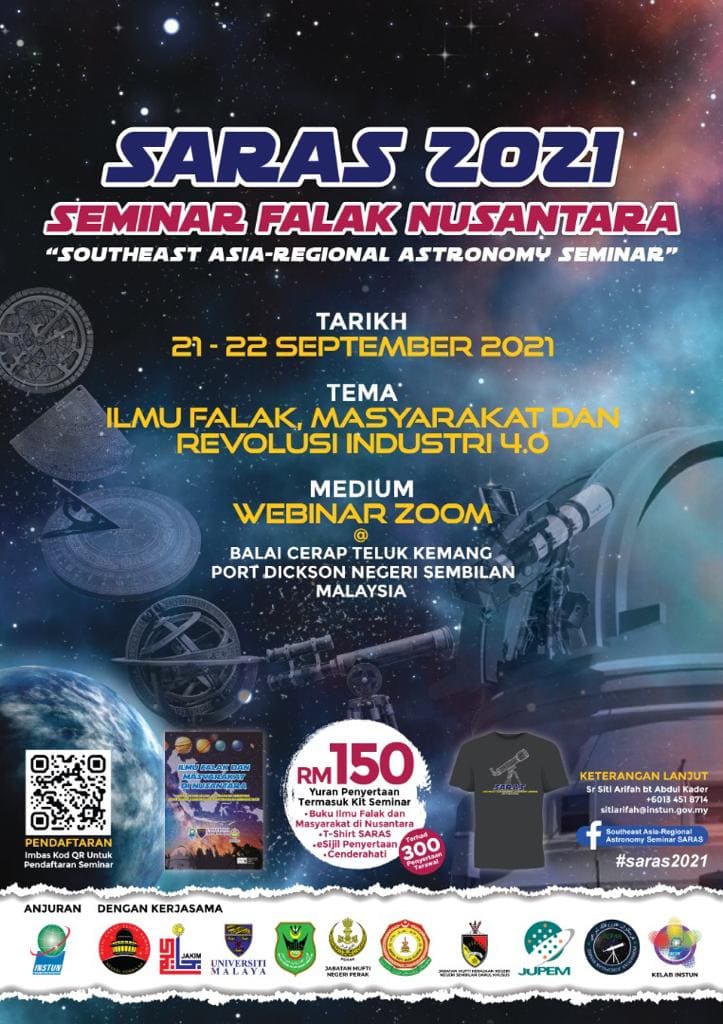 TANJUNG MALIM, 23 September 2021 - Program Southeast Asia-Regional Astronomy Seminar (SARAS) 2021 telah berlangsung dengan jayanya. Seminar ini telah berlangsung secara dalam talian selama dua hari dan telah berakhir semalam. Ia dianjurkan oleh Institut Tanah dan Ukur Negara (INSTUN) dengan kerjasama Jabatan Ukur dan Pemetaan Malaysia (JUPEM), Universiti Malaya (UM), Jabatan Mufti Negeri Perak, Jabatan Mufti Negeri Selangor dan Jabatan Mufti Kerajaan Negeri Sembilan.
Seminar ini merupakan seminar berstatus peringkat nusantara dan merangkumi pembentang dari kalangan pakar falak dan astronomi dari dalam dan luar negara. Antara pembentang-pembentang antarabangsa yang terlibat ialah Prof. Dr. Nidhal Guessoum dari American University of Sharjah UAE, Dr. Kumiko Usuda-Sato dari National Astronomical Observatory of Japan, Dr. Osamu Hashimoto dari Gunma Astronomical Observatory, Assoc. Prof. Dr. Umit Ertem, Presiden Hal Ehwal Agama Turki, Dr. Awin Juli Rakhmadi dari Universitas Muhammadiyah Sumatera Utara. Seminar turut diserikan dengan 4 pembentangan oleh wakil negara iaitu YDH Orang Kaya Kaya Imam Paduka Tuan Perak, Dato' Dr. Afifi al-Akiti yang bertugas di University of Oxford sebagai pembentang utama, United Kingdom, YBhg. Prof. Dato' Dr. Mohd. Zambri Zainuddin dan Dr. Mohd Hafiz Mohd Saadon dari Universiti Malaya serta YBhg. Dato' Sr. Dr. Azhari Mohamed, Pengarah JUPEM.
Seramai kira-kira 250 orang peserta dari dalam dan luar negara telah menyertai program seminar ini. Peserta terdiri dari kalangan para pengamal falak dan astronomi sama ada dari jabatan kerajaan atau swasta. Ia juga turut disertai oleh para pelajar dan peminat falak astronomi. Penganjuran SARAS 2021 ini merupakan kali kedua setelah kali pertama dianjurkan secara fizikal pada tahun 2018. Ia merupakan satu kejayaan yang berharga kerana dapat mempertingkatkan kefahaman dan minat terhadap ilmu falak dan astronomi khususnya di kalangan peserta sekaligus menaikkan nama negara sebagai salah satu negara di dunia ini yang sentiasa mempromosi dan mengkaji bidang ilmu yang sangat penting dalam kehidupan manusia.
Sumber: Bahagian Falak, Jabatan Mufti Negeri Perak.